Celebrate a century of Sarah Vaughan's rich musical legacy with the Legendary Count Basie Orchestra, directed by Scotty Barnhart and featuring the captivating Carmen Bradford, at The Nash's annual signature event. Indulge in a VIP pre-concert experience complete with delectable hors d'oeuvres and a curated bar. Immerse yourself in an unforgettable evening of jazz excellence all in support of Arizona's premier jazz performance and education center. Secure your VIP reception and show tickets, or show only tickets now for a rendezvous with history and harmony!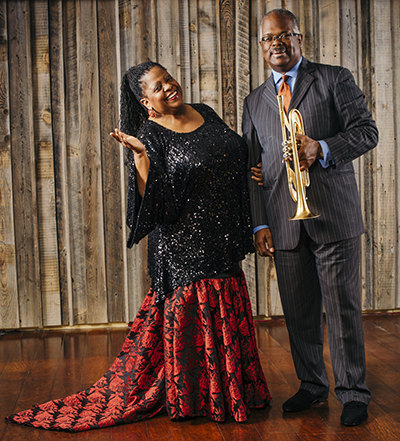 In the history of Jazz music, there is only one bandleader that has the distinction of having his orchestra still performing sold out concerts all over the world, with members personally chosen by him, for over 30 years after his passing. Pianist and bandleader William James "Count" Basie was and still is an American institution that personifies the grandeur and excellence of Jazz. The Count Basie Orchestra, today directed by Scotty Barnhart, has won every respected jazz poll in the world at least once, won 18 Grammy Awards, performed for Kings, Queens, and other world Royalty, appeared in several movies, television shows, at every major jazz festival and major concert hall in the world.
Since Basie's passing in 1984, Thad Jones, Frank Foster, Grover Mitchell, Bill Hughes, Dennis Mackrel, and since September 2013, Scotty Barnhart, have led the Count Basie Orchestra and maintained it as one of the elite performing organizations in Jazz.
Current members include musicians hired by Basie himself: Frequent guest vocalist Carmen Bradford (joined in 1983) and trombonist Clarence Banks (1984).  Long-time members include Doug Miller (1989, formerly w/Lionel Hampton), guitarist Will Matthews from Kansas City (1996), and members who have joined in the last 15-25 years; trombonist Mark Williams, trumpeters Shawn Edmonds and Endre Rice, saxophonists Doug Lawrence (formerly w/Benny Goodman) and returning on lead alto, David Glasser.  Newer members include bassist Trevor Ware, lead trumpeter Frank Greene III and trumpeter Brandon Lee, pianist Glen Pearson, lead trombonist Isrea Butler, bass trombonist Ronald Wilkins, alto sax and flute Stantawn Kendrick and the youngest members, drummer Robert Boone and baritone saxophonist Josh Lee.
TICKETS:
Rows A-I (VIP): $250*
Rows J-Q: $79
Rows R-Y: $59
*VIP tickets include a pre-show reception in support of The Nash starting at 5:00 pm, which includes a discussion with band leader Scotty Barnhart and guest vocalist Carmen Bradford discussing the legacy of Sarah Vaughan and her relationship with The Count Basie Orchestra. Following the discussion there will be hors d'oeuvres and a hosted bar with music by The Nash's student ensemble. The Legendary Count Basie Orchestra show starts at 7:30 pm after the VIP reception.